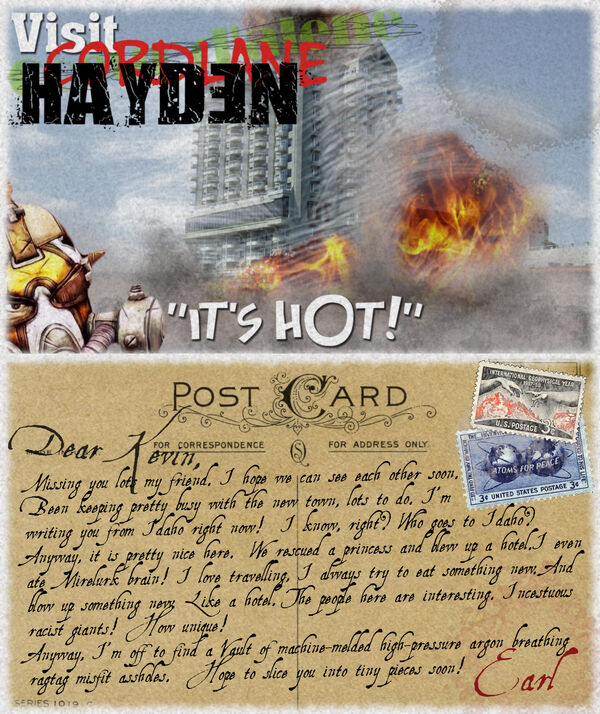 "TURNS OUT THE PRINCESS WAS KEPT IN SOLITUDE FOR LIKE A THOUSAND YEARS AND WANTS OUT. SINCE SHE KILLED THAT DUDE ALL BADASS LIKE WE REALLY HAVE NO CHOICE. OF COURSE, THESE ARE A BUNCH OF WHITE SUPREMACIST ASSHOLE MUTANT DICKS SO SURE WHY NOT.
THERE WAS A GHOUL DOCTOR AND HIS NATIVE MANSERVANT WITH US. I'M NOT SURE WHO THOSE PEOPLE WERE BUT THEY SEEMED COOL.
WE KNOCKED THE ELEVATOR DOWN THEN RUSHED THE STAIRS. TURNS OUT ONE-EYED JACK IS SOME SORT OF SLEEPER AGENT BECAUSE HE JUST SLICED UP SOME MOTHERFUCKERS LIKE IT WAS SUNDAY MORNING TEA. THE ROBOT RIGGED THE KITCHEN TO EXPLODE. MACK DID HIS NORMAL THING AND AVOIDED COMBAT COMPLETELY, STEALING SOME TRUCKS OR SHIT WHILE WE CLEARED OUT THE PRISONER RAFT. A GIANT MIRELURK SHOWED UP. MY FRIENDS OCCUPIED ITS HANDS BY BEING SLOW AND WEAK ALLOWING ME TO HACK IT APART AND PULL OUT ITS GODDAMN BRAIN. I WISH MORE ENEMIES HAD CHAINS AND WIRES CONNECTED DIRECTLY TO THEIR BRAIN SO I COULD PULL THEM OUT.
THE GHOUL GUY DROVE A CAR INTO THE BURNING HOTEL AND IT BLEW UP LIKE WOAH. I'M PRETTY HAPPY BECAUSE NORMALLY I CAN'T CROSS ANYTHING OFF MY "FUCK THEIR SHIT UP LIKE WOAH" LIST. I MANAGED TO PICK UP A POSTCARD ON THE WAY OUT WHICH STRANGELY FEATURED ALL OF OUR EXPLOITS. HOW IS THAT EVEN POSSIBLE? LIFE IS STRANGE."
The previous message was found scrawled into an old U.S. Postal Service post box. It was sealed airtight and inside was a rotting piece of what I can only assume is Mirelurk brain as well as the postcard featured above. My study of "Kevin" and "Earl" continues.
~Professor Yotz, Lead Researcher Cascadia Prime
Lady Kreis has been under house arrest in the resort since August took power; wants to bring along the prisoners from the boat
Lady Kreis calls up the other guard, telling him that Brisbane is ill and to bring Dr. Strahd
Strahd is a ghoul who looks as if he has been surgically modified, along with Petra, a middle-aged human woman who looks dressed for wilderness travel; both are being held by August for having something useful to him
Strahd asks Lady Kreis to execute the other guard and Earl to decapitate the body; takes control of the head to use as a sentry
Guards send up more units to find out what is happening; Strahd severs the elevator cable
Escape through resort lobby past snipers and guard with halberds; set bomb trap on south door
One group rescues prisoners on raft, guarded by mirelurk; other group heads to garage east of the resort, stealing one combat truck and sabotaging others
Send combat truck through resort entrance, setting off explosion that takes out support pillars and brings down the building